Accreditation Solutions
Equinis offers the most complete solution for accreditation in the equestrian sport. Our online event management system HippoBase provides an efficient and team-minded way for organizers to enter and maintain a large number of people. Any OC member having a login with adequate rights can help to prepare the accreditation list from anywhere on the internet - before or even during your show. The online data can be used to control access in two ways:
Passes with pictures and individual access zones can be produced.
A module in HippoBase keeps track of wrist bands that have been issued.
This is the choice for high class events and offers the best flexibility for the access rights of each individual person. Areas on the venue are represented as colored fields, character codes or numbers on the pass and can be activated individually for each person. Picture passes are particularly simple for the security personnel: At the entrance of an area the pass simply needs to be checked for the right to that area. Equestrian events typically have between 6 and 22 (Aachen) areas.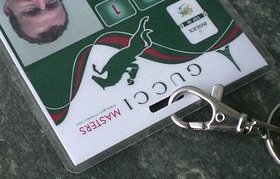 Equinis provides all technical equipment and consumable material necessary to produce passes at your event. Our special accreditation software allows to find names in the database quickly, takes pictures using industry-quality digital cameras and prints passes using color laser printers. We complete production of a pass by laminating the paper.

Pictures showing the accreditation process
Provided the name and picture are available in the system the production of a pass takes between 30 and 60 seconds on a single workstation setup. If a person is searched for unsuccessfully and has to be entered and photographed at least twice the time is required.

Our standard "laminated paper" passes are A7 (74x105mm) or A6 (105x148mm) with color layout printed on both sides. We can also print personal details on pre-printed A6 cardboard cards provided by the client.
Plastic cards can be printed in regular credit card size (54x86mm) or the popular 'long' credit card size 54x140mm which leaves more room for advertising and photo in a decent size.

We can also manage and print auto-generated or customer-specific bar codes with any commonly used symbologies. For any event requiering between 500 and 10000 passes we have the right solution for you.
Wristbands allow you to control access only in groups of people. A certain color gives access to a predefined combination of areas which can not be individualized for a particular person. Security personnel has to remember a variety of colors that is valid for their entrance. If you find you have more then 6-8 colors you might want to consider having pictures passes instead. However, wristbands are faster to issue then picture passes and are obviously the cheaper solution. For some groups of people like VIPs or unexpected guests who do not have accesss to any critical areas wristbands might be the best solution in general.
Pictures showing wristband distribution
Just like accreditation areas HippoBase can be configured for certain types of wristbands. Each type can then be turned on or off for groups of people (Roles) or each person individually. Up to this point the procedure is not really different from the accreditation with picture passes and the two methods can even be combined.
For the distribution of the wristbands a special and easy to use CheckIn module exists in HippoBase. The CheckIn software allows to find names quickly, even with complicated spelling or funny foreign characters. When the wristband has been issued the software allows to register with a single mouse click when an by whom the this has been done.